The One-Year Anniversary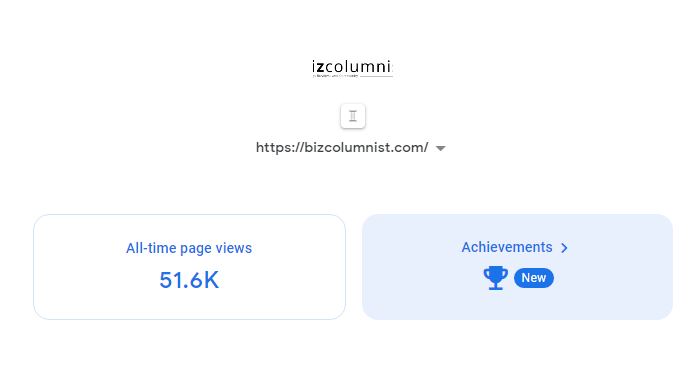 One year ago, Bizcolumnist.com opened its digital doors. The site started as a way to talk about general business news, but quickly changed when I realized that storytelling is better on a local level. Over the past year, it morphed into a beautiful blog full of news, events, and voices of the small business community.
As a blogger, I spend hundreds of hours delivering content to my readers. Blogging is a passion, a hobby, and a way for me to express creativity. As a former journalist, I know that big publications often churn out articles and videos that lack details. My blogs will always strive to be more. It's a mix of storytelling and personal perspective. 
I am incredibly grateful for my audience and this anniversary moment. Here are a few accomplishments over the last year: 
51,000 pageviews
1,600 organic search clicks (in the last 3 months)
700 Instagram followers
194 Facebook followers
Although 50k pageviews mean almost nothing in the vast world of the internet, at least a couple of my words have helped others. Whether somebody needed a recommendation or a business needed publicity, I know I assisted in their endeavors. 
For all the businesses and people I have met along the way–thank you. Your words of encouragement and guidance mean more than you know. 
This year I want to achieve these goals:
1,000 Instagram followers. I hope by the end of Q1 it will surpass 1,000.
500 Facebook followers. Due to Facebook's privacy settings, I don't know the true number of followers. As of today, there are 194 public followers.
20 Buymeacoffee supporters. Donations to support the blog help independent writers like me. The support offsets the costs of hosting, upgrading, and writing.
Make more connections. Creating a blog focused on Southeast PA has brought out so many local supporters. I hope to meet many more along the way!
Again, thank you all for your continued support and for making the one-year anniversary a special one. Cheers to 2023! 
Related Blogs
Kickstarter Launched for Arcade and Brewery in Phoenixville  – Bizcolumnist.com
Passionate Floral Designer Opens Flower Shop in Spring City – Bizcolumnist.com