Bistro on Bridge to Host Night of Boo-ze and Ghosts With Local Author and Paranormal Investigator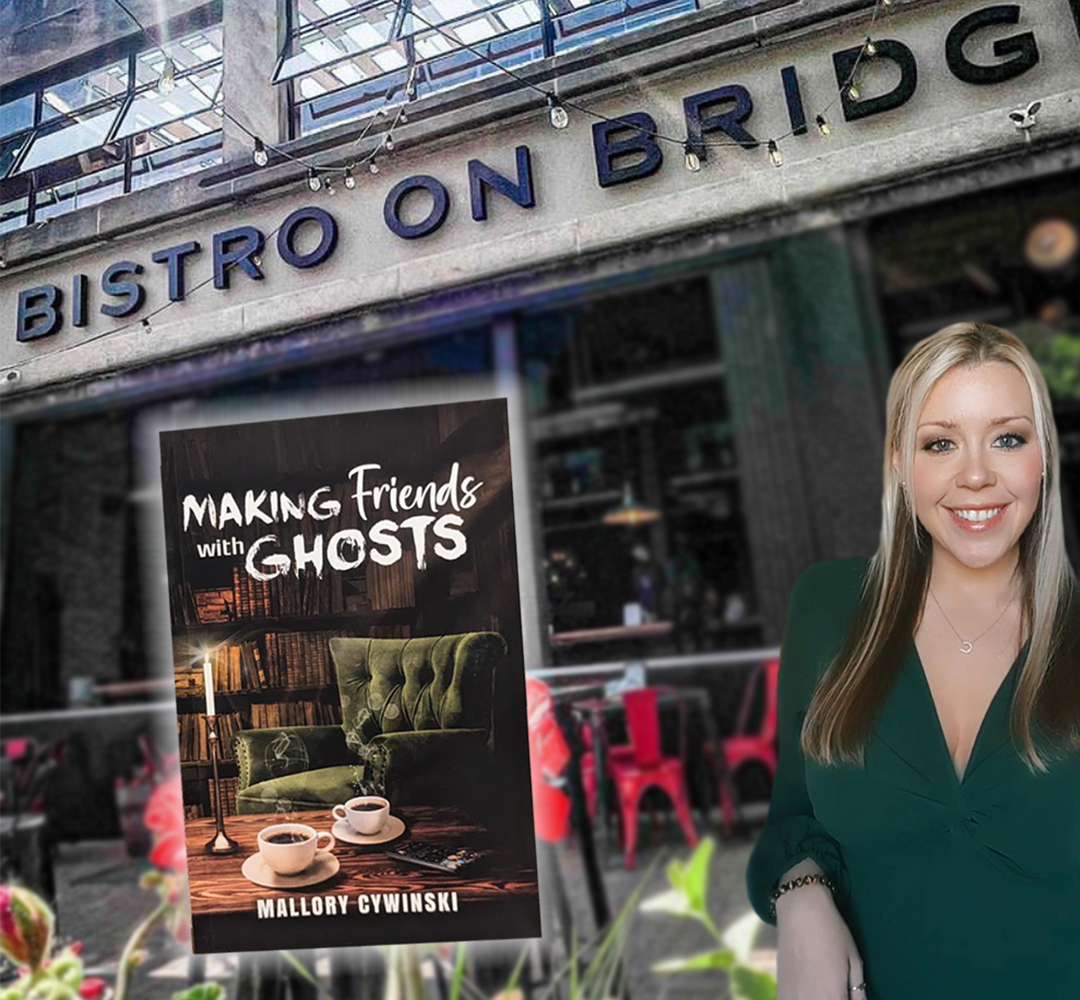 In the historic steel town of Phoenixville, PA, there's a sci-fi celebration like no other. Every July, patrons hit the streets to celebrate the 1950s film–The Blob. The annual festival coined as "Blobfest" brings in thousands of visitors from around the nation. Within the borough, the businesses equip their storefronts with blob-themed decor and enthusiasts walk the streets in experimental costumes. Amongst the festivities, you can find parties at the restaurants. One of those parties focuses on the "other side" with paranormal stories and spooky cocktails. Along with the festivities, you can meet local paranormal investigator and author Mallory Cywinski.
Making Friends With Ghosts
The paranormal party is happening at Bistro on Bridge on July 12 from 6:00 p.m. to 9:00 p.m. You'll be able to hear from Phoenixville's own ghost hunter on her haunting adventures.
Cywinski experienced abnormal events throughout her life. She spoke with Bizcolumnist.com about her background in ghostly activities. 
As a mom and ghost hunter, you can say she's pretty transparent about why she started investigating apparitions.
"After I had my babies, I really struggled with Postpartum Depression, and part of my way of battling through that was to immerse myself in my interests and hobbies. Doing so gave me a stronger sense of self and meaning beyond my identity as "Just Mom," and one of the interests I finally decided to explore was paranormal investigating. I went on my first "Ghost Hunt" at Fort Mifflin, and the terrifying experiences I had that night changed my life forever. I haven't stopped looking for ghosts since."
Although she dived deeper into her hobby as an adult, her life-long strange occurrences and shocking moments as a paranormal investigator fueled her inspiration to pen Making Friends With Ghosts.  
While Making Friends With Ghosts is a resume of her paranormal incidents, it's also a look into her vulnerable, raw, and darkest moments. From childhood to postpartum depression, Cywinski wanted to take a level-headed and humorous approach to her book.
She considers the book her "heart project," but you can get snippets of her experiences on her online. There's a niche community of ghost hunters on social media, and she contributes to it through her handle @CoffeeBooksandGhosts, which has over 3,000 followers. She's been featured on dozens of podcasts and internet shows. 
So, if you're looking to get into ghost hunting, you can learn a lot from Cywinski's expertise.
"My book is a good start to learning about common practices in investigating – I really tried to explain concepts in beginner's terms and make it accessible."
Boo-ze at Bistro
If you're ready to join the crowds during Blobfest weekend, you can share your stories with Cywinski at Bistro on Bridge. Here's what she said about the event:
"I'll be there, sipping from the special spooky cocktail menu, signing copies of my books (I've also written a children's book called The Roasty Toastie Ghostie), and talking about some of my scariest moments, from hearing disembodied voices to seeing a full-body apparition, to even tasting a ghost. (Yes, I'm serious) I can't wait to talk to "normies" (non-paranormal investigators) about my ghost stories and answer any questions they might have about what it's really like to go on a ghost hunt. Lots of my investigations have been local to Phoenixville, so maybe someone will be inspired to visit a location from my book. We'll have some scary movies playing on the projector, and I'll bring some pieces of ghost-hunting equipment along. It will be a creepy, weird, fun, casual evening where hopefully everyone lets themselves fly their freak flags with me a bit. I certainly do."
Bistro works with a lot of local vendors and creators to put together exciting events. This one will definitely be one for the Boo-ks (okay I'll stop now).
If you want to learn more about the event, or about becoming a paranormal investigator, follow Mallory on Instagram. You can buy Making Friends With Ghosts on Amazon here:
Lastly, if you're an aspiring writer, Cywinski recently started her own publishing company with a friend, called Dark Village Publications. They are currently accepting submissions of dark fiction for a paperback anthology they are curating, due out sometime this Fall. Anyone may submit, and the guidelines are on her social media pages.
Related blogs