Why You Should Pay Attention to SoFi Invest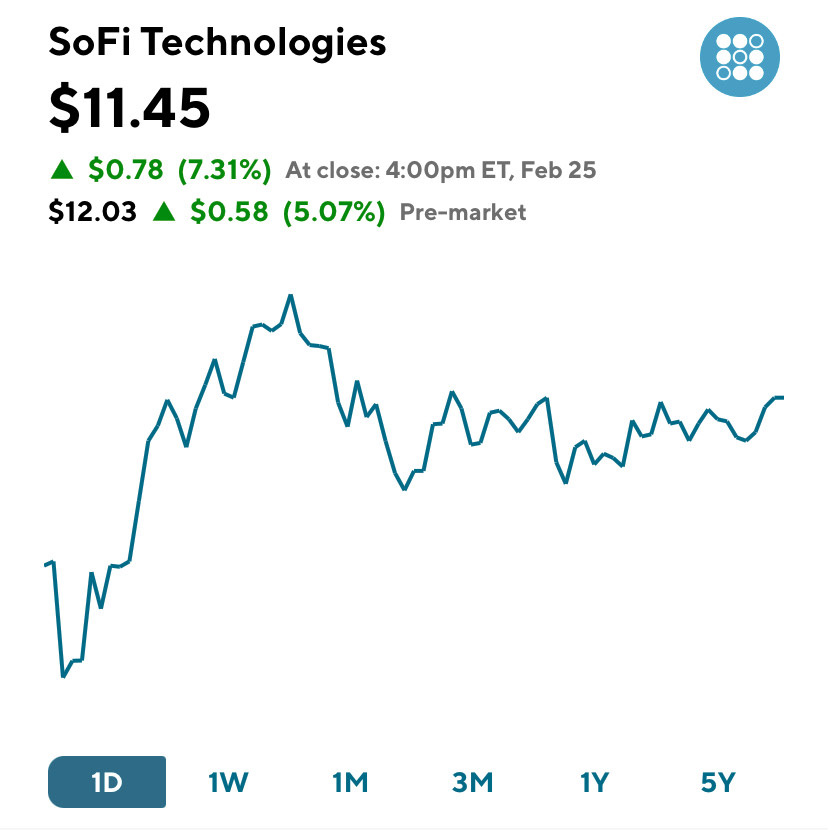 Fintech is a growing industry in many unique ways. People no longer need to walk into a credit union to feel a sense of community. You can open online accounts anywhere for traditional services and have your money insured by an institution. Companies like SoFi even offer better interest rates for savings accounts than the average bank. The perk of opening a SoFi account means you can integrate its other finance tools. Roughly a year ago, I decided to transfer over to SoFi for my stock portfolio, and here's why you should pay attention to SoFi Invest.
Just because r/wallstreetbets loves to pump SoFi as the next greatest fintech company doesn't mean it's true. However, I've been a member of SoFi for 4 years and understand the hype around the brand. 
I initially used SoFi to refinance my student loans, which turned out to be the best option for my financial future. Over the years, SoFi grew into a company with several avenues to bring more services to its members in one place.
As a SoFi stan, I decided to try their investment platform and haven't stopped since.
Simple User Interface
SoFi has always catered to students so naturally, they made their investment platform easy to navigate. You can easily add companies to your watchlist, see trending companies, and follow other investors. 
The chart is basic, but it gives you a quick snapshot of your portfolio over time. Along with your portfolio, you can see other popular investors, view trending companies, and find tips on investing.
Again, SoFi makes their experience extremely easy to find what you're looking for.
Investor Profiles
Staying true to their name–Social Finance–you're able to follow popular investors. You can establish your own investor profile and share your portfolio—with hidden financials. You're able to see the percentage breakdown of other users' portfolios and what companies are on their watchlists.
This program is completely voluntary and its terms must be agreed upon before enrolling. 
Discover Positions
There are investment trends within the SoFi Invest tool to assist beginners in investing. You'll see collections of dividend companies, ETFs, airlines, etc.
On top of discovery, it's easy to view each collection and research the companies making up each category. A visual item that sets the tool apart is incorporating company logos into positions. Something about seeing the logo of a company draws the eye to the page compared to a ticker. 
IPO investing
You can invest early in IPOs. SoFi likes to call out that big institutions were able to access this form of investing for a while, so they want members to feel like they are exclusive too.
Cryptocurrency
You're now able to purchase cryptocurrency through the SoFi Invest tool. The tool will track your investments across stocks and cryptocurrency.
If you're an avid crypto investor, I wouldn't use it if you plan on transferring positions to a wallet. Right now, SoFi does not offer wallet transfers. Hopefully, in the future, we'll see SoFi add this feature.
Margin Trading Coming Soon
SoFi is now trying to keep up with the big names. The downfall of the investor platform is that you can't trade options or on margin.
Margin trading is coming soon to SoFi Invest and certain members are being asked to trial the program.
Bonus for Referrals
You can earn $50 for referring somebody to SoFi Invest. Also, SoFi has a rewards program that provides rewards in the form of a monetary payout for recurring purchases.
If you'd like, you can use your rewards to purchase fractional shares of your favorite positions. The redemption might take 1-2 days to reflect in your account.
On a regular basis, SoFi is updating its rewards program. At the time of writing this blog, the offers were applicable.
SoFi Invest Takeaway
Although SoFi is big in the loan industry, they are working towards making a difference in all their members' financial futures. If you're looking to trade options, or invest with more resources, SoFi might not be for you. However, for beginners or casual investors, SoFi Invest is a perfect way to build stock market skills.
*This is my review of the SoFi Invest platform, and I do not consider myself a financial advisor. Please do your research before making a commitment to investing. I do own shares of SoFi Technologies.
Read More Related Blogs
The Couple Building a Home Debt-Free